The internet is a great way for people to complete a variety of tasks - shopping, scheduling appointments or reading the latest news. It allows people to connect from across the globe and presents the opportunity to meet people with similar thoughts and interests. Along with all of these positive opportunities the internet offers, there is also the potential for negative experiences such as falling victim to online scams.
One of the biggest reasons seniors are more vulnerable to these online scams may be due to a lack of computer or internet skills. Unlike younger generations, who were raised on technology, seniors had to adopt it later in life. Although many have adapted quickly, others struggle to stay up-to-date with the latest device or internet craze. Here are some tips to promote online safety for seniors - whether you're a beginner or not, it's important to stay safe online.
1. Think Twice Before You Click
Most of us have probably received an email saying "You've Won a FREE Caribbean Cruise!" But we don't remember ever entering a contest. Cyber-criminals hide behind anonymity and use catchy subject lines to draw in vulnerable, online users. It's important to always think twice before opening or responding to an unsolicited email, opening an attachment or clicking a link.
Do not share your personal information for any reason, unless you are confident you are on a reputable website. Remember, most credible organizations, such as banks, businesses, and universities, will never ask you to enter or confirm your personal information (address, credit card information, social security number, etc.) over email.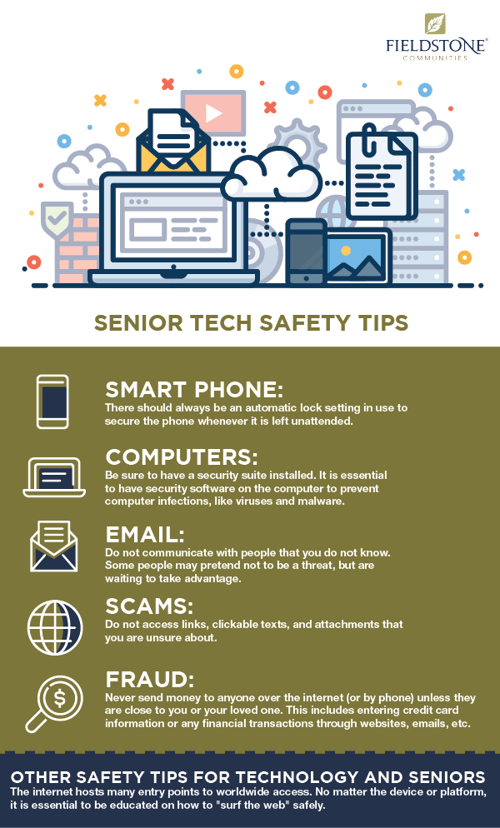 2. Create Strong, Unique Passwords
Many websites, such as social media sites or banking institutions, require you to create an account. When creating an account is necessary, make sure you are creating strong, complex passwords and never using the same password for multiple accounts.
Some suggestions for creating a secure password include using a combination of lowercase and uppercase letters, special characters such as $ # % and stringing several words together in a phrase (something easy for you to remember). Pass-phrases are significantly stronger than an individual (pass)word. Also, don't forget to use passwords to lock all mobile devices too, including laptops, cell phones or tablets!
3. Be Cautious When Connecting with New People Online
One of the greatest things the internet offers is a chance to talk and connect with new people, whether it's a group of people joining with a shared passion or a dating website to connect possible romantic partners. Although, of course, not every person online is a "scammer," it's important to be cautious when starting online relationships. Never share any personal information or agree to send money for any reason (traveling, family emergency, etc.).
If you do arrange a face-to-face meeting with someone you connect with online, make sure it is at a public place and either bring a friend with you or make sure others know where you will be. Be extra suspicious of anyone you connect with online that is never available or willing to meet in-person.
The online community is a great place for seniors to stay socially active and engaged, but, at any age, it's important to be careful online. Fieldstone Communities is committed to being a resource for tips, news and more regarding senior living – subscribe to our blog to learn more today!