Although some seniors make their own decision to move to a senior living community, we know that others may have a harder time accepting the change. Fieldstone wants to help you and your loved one with this transition by making it as calm and comfortable as possible. Here are some ways to help encourage a stress-free transition to assisted living in Washington.


Get Your Loved One Familiar with Their New Home
Once you have decided on an assisted living community for your loved one, encourage and help them to get familiar with their new home and environment. Most assisted living communities, like Fieldstone, offer tours of the campus and if requested, may be able to provide a more personalized experience. This will give them a chance to familiarize themselves with the layout and atmosphere, and to meet with the staff. They will also get any questions answered and concerns addressed before making the physical move.
If possible, taking a tour of the type of apartment or living space your parent will be moving into will help them start to visualize what their furniture and belongings will look like in their new space. This can help build excitement and a sense of connection to the community.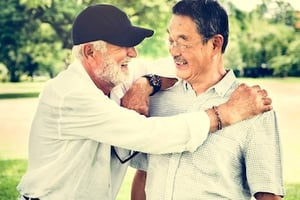 Create a Social Connection
Before moving in, also encourage your parent or loved one to visit their new home for a meal or two or to participate in activities. This gives them the opportunity to meet other residents and begin building relationships even before they move in. They may even run into friends and acquaintances that they didn't know lived in the community! It's always easier to start somewhere new when you know you have a friend nearby.


Stay Positive
Regardless of the situation surrounding the transition to assisted living in Washington, it is important to stay positive for your loved one – before, during and after the move. It is also beneficial to remind them of all the positive aspects that come along with the move, such as access to amenities and services like:
Fresh, delicious meals prepared for them
Assistance with daily living activities
Professional nursing staff with 24/7 on-call nurses
Social activities and events
Fitness and exercise classes/programs
Remind your loved one of all the benefits they will be gaining with the move, helping them focus on the positive changes and not the things they feel they may be "losing".



Listen to Your Loved One
Whether your loved one is feeling excited, nervous or sad, make yourself available to listen to their thoughts and concerns. It is important that they are able to express their emotions and feel like they are being heard. Shutting them down or making them feel like their opinion doesn't matter can thwart the moving process and add unnecessary stress to everyone involved.
At Fieldstone Communities, we want your loved one to feel at home from the moment they walk through our doors. Our professionally trained and caring staff are always here to help during the transition your parent or loved one is making into one of our assisted living communities. Our goal here at Fieldstone is to provide all the comforts of home for your loved one, as well as additional services and amenities, and customized care. If you would like to learn more about Fieldstone, please visit our website.