Here at Fieldstone Communities, we know that one of the biggest needs in senior living today is finding ways for residents to stay connected and engaged with family members. Studies show that family engagement can have a direct impact on the long-term health of seniors in residential living communities.
We love connecting residents with their families and friends. That's why we have invested in LifeLoop. LifeLoop is an interactive website where families and residents can login to view photos, see calendars, send messages, receive updates, and more.
"Family members are naturally curious about what's going on with their loved ones, and LifeLoop is both a proactive and reactive way of helping with that," says Thomas Cloutier,
 Vice President of Operations at Fieldstone.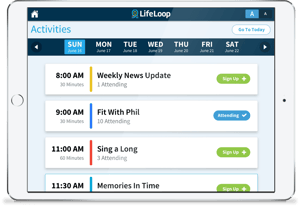 Each Fieldstone community shares dozens of photos and posts about activities and outings every month, so you can share in your loved one's day, even if you can't be with them. Since you can view upcoming events, you can easily schedule the best times to visit and enjoy time and activities together.
Our Fieldstone chefs are passionate about offering gourmet dining with delicious, fresh ingredients. With LifeLoop, you can view our menus and see what meals your family member is enjoying every day. We invite you to come join us at the table. We believe every meal is an opportunity for residents and families to share wonderful food and conversation.
LifeLoop fosters a sense of community among our residents and is also valuable to staff, helping them track attendance, engage residents, share calendars, and communicate with family, just to name a few features.
"I have worked with LifeLoop since its beginnings, and I'm impressed with the continued growth and improvement of the product," says Lucie Flood,
 Life Enrichment Director at Fieldstone Cornell Landing. "Our families enjoy the information and photos they get daily, a kind of a window into their loved one's day."
We know families can't always be here, even though they want to be. LifeLoop helps bridge that gap so your family member is just a click away. Check out the video below to learn more.
Sign up for LifeLoop today by talking to the Life Enrichment Director at your community.