Albert Ku is of Chinese heritage and has lived in Michigan for most of his life until retiring to Portland to be with his children and grandchildren. Albert and his wife, Jane, have been married for over 50 years. He has two daughters, Natalie and Elizabeth. His grandchildren are Isadora (15), Giacomo (12), and Hugo (8).
Albert graduated from National Taiwan University (the most prestigious university in Taiwan and one of the top-ranked in the world), and then went to graduate school in the US, obtaining both a master's degree and PhD—from Virginia Tech and Ohio State University, respectively. Albert was a professor of Civil Engineering for roughly 40 years at the University of Detroit.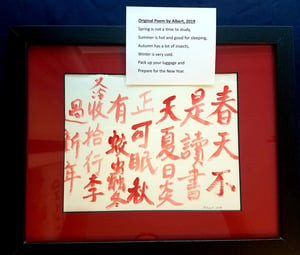 Albert always enjoyed mathematics and computer science and served as a software programming consultant for the automotive industry in addition to teaching. However, Albert also has interests in the liberal arts and history, having been an avid advanced reader and writer in both Mandarin and English. He has written textbooks and technical manuals (in English), as well as creative writing, particularly poetry (in Mandarin, primarily).
Albert practiced Chinese calligraphy and has lovely Chinese penmanship. He enjoys bingo, card games, and basketball. Albert has a pretty good bank shot! The Ku family has been pleased to discover that Albert has participated in a range of activities at Fieldstone Cornell Landing, and that puts a smile on everyone's face.
Thank you, Albert for being a part of our joyful and vibrant community.