Terry and Lucille were two of the first residents here at Wenatchee Memory Care, joining us in December 2018. After 37 years together, they still enjoy spending time with each other.
Both Terry and Lucille are 82 years old and grew up mostly in the Pacific Northwest. Terry was born in Klamath Falls, Oregon, and moved throughout the area while growing up. He loved walking on the railroad tracks with his two brothers collecting soda bottles for money. Lucille was born in Kamloops, BC, and moved to Burien, Washington, when she was 12 years old. She loved her childhood days in school and enjoyed playing with her cousins in Canada.
The two met at the Wenatchee Post Office—Terry was a supervisor and Lucille was a clerk. Because she was a certified stenographer and a skilled typist with 97% accuracy and 109 words per minute, Lucille always had the best hours—Monday through Friday. They were married in 1982, both 45 years old.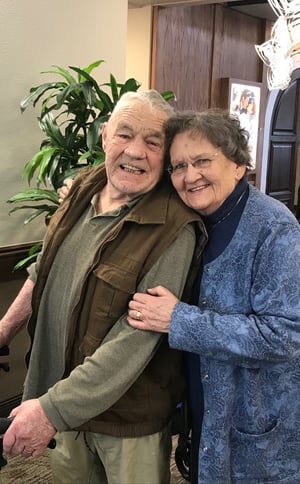 Lucille has 5 children and Terry has 2 children, so they had an instant family. They both have always attended the Nazarene Church in Wenatchee and still attend regularly. Both Terry and Lucille loved dancing and found every opportunity to dance together. Lucille said Terry was one of the best dancers out there! Once retirement came, they started traveling and were able to go on several cruises as well as some exciting trips. Some of their cruises included Hawaii, the Caribbean Islands, and Mexico. They also went to Washington DC, Florida, San Diego, and other fun places.
In their apartment, you will see mementos and photos of all their adventures as well as their beautiful family displayed throughout their home. Lucille has a sign posted in her room that reads "My house is clean enough to be healthy, and dirty enough to be happy," which has been a running joke between her and her brother for years. They also have a sign that signifies their belief—"Love is All You Need, Love and Family."
The things Terry and Lucille like best about the Fieldstone community are the people and the staff. Lucille said everyone is friendly and treats her with respect. Her favorite activities are puzzles and reading. Terry enjoys being wherever Lucille is, especially if it's the bakery. Lucille could not pick her favorite meal; she said she has not had a bad meal yet, and all of them have been her favorite! Lucille says that she really likes it here at Fieldstone Wenatchee.
We're so glad to have Terry and Lucille here with us at Fieldstone!