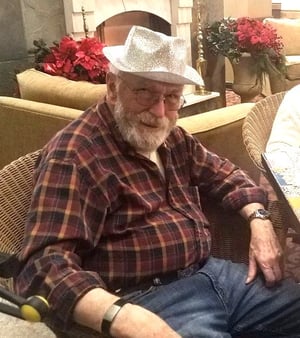 We're pleased to introduce you to Dean Peterson. He is 84 years old and has lived at Fieldstone Grandridge for three years.
Dean was born and raised on a farm near McCall, Idaho. The closest neighbors were about a half-mile away, and his parents were always busy on the farm, so Dean and his younger sister had free rein and were very self-sufficient. He shared a vivid memory of climbing up in a tree, taking baby hawks out of a nest, and putting them on his finger. The hawks grasped his finger so tightly sometimes their talons drew blood! Dean also reminisced about his mom and sister chasing bats around the house at night. Somehow the bats would always end up in his room overnight. He would sleep right through the drama, and then in the morning he would calmly don a pair of leather gloves, remove the bat from behind his dresser and release it. One of his favorite memories from his childhood was waking up in the morning and hearing the meadowlarks sing. After high school, Dean worked on some of his neighbor's farms until he was drafted into the Army in his mid-20s. He served two years in the US Army, starting in New Jersey with basic training for two months and was then stationed in Albuquerque, New Mexico, where he went through two schools training to be an Atomic Weapons Assemblyman. Dean spent the rest of his time in the Army stationed in Germany in a small unit near the French border. He still has a few European coins and an authentic pair of German lederhosen!
When Dean returned home from service in the Army, he went to college at the University of Idaho to study engineering. He switched his major to Education, graduated with his bachelor's degree, and taught 5th and 6th grade for four years. But he became disillusioned with parents and politics and decided teaching wasn't for him after all. When he read in the paper that Boeing was hiring in Seattle, he moved to Seattle with his sister and landed an interview.
While Boeing didn't end up hiring him, it turned out to be a blessing in disguise because the Washington State Highway Department was hiring, and that turned out to be the perfect fit for Dean since he loved being outside. He spent six years striping roads and then was transferred to landscaping to maintain freeway shrubbery. He worked in the Seattle area for 20 years and then transferred to Spokane and worked 10 more years as a jack-of-all-trades for the highway department: setting up signs, fixing potholes and guardrails, and removing dead animals off the road. Dean's favorite part of working for the highway department was all of the outdoor freedom and the wide variety of jobs he performed. He liked being outside instead of stuck inside and enjoyed driving the street broom, hauling blacktop in a dump truck, and running the chainsaw when branches fell and blocked the road during overnight storms. One of the best perks of the job was getting to go fishing waiting for the water levels to go down while measuring water in the reservoir and irrigation ditches. Can't you just see him now?
Dean met his wife at church at a singles group potluck shortly after moving to Seattle. He saw her and his eyes lit up. She looked as if she wasn't sure she belonged there, so Dean summoned the courage to go over and talk with the beautiful new girl. Turns out, she was a junior high physical education teacher, and she had the best basketball shot Dean had ever seen! It was an instant connection for the two of them, and they went on to marry and raise four boys. They lost two baby daughters, but Dean knows he will see them again in Heaven. After their first son was born, his wife retired from teaching and enjoyed being a homemaker. She was a wonderful mother and wife, with plenty of love for each one of them. The whole family enjoyed camping, fishing for trout, gardening, and yard work. They tried to go camping every other weekend in the summer, mostly along the Washington coast. Their favorite camping spot was at the end of a canal at a campground with a swimming pool that his boys loved to play in. Though that time of his life feels like a lifetime ago, he treasures all the memories he and his wife shared for 43 years before she passed away from cancer. There aren't any specific highlight memories for him—he just made the most of every moment along the way and enjoyed the outdoors as much as possible. Dean has at least 15 grandkids—that number changes when one of his sons and daughter-in-law bring foster children into the fold. The Peterson family have very big hearts, and that's plain to see in the wonderful family photos on Dean's living room wall.
Dean was living in Spokane when his wife passed away, and his boys thought it would be best for him to live close to one of them. Kennewick had the best options, and Fieldstone Grandridge was the easy choice. Dean says what he likes best about Fieldstone Grandridge is "not having to cook my own meals!" He loves the food at Fieldstone Grandridge, and he joked that he has a "see-food appetite"—meaning, he sees it, he eats it! He particularly enjoys it when Chef Trevor has fish on the menu. Dean also likes the wide variety of delicious wraps because they remind him of a favorite joke: a person in a sleeping bag is a soft taco for a bear. Dean enjoys sitting with his friends for meals, particularly Bruce, Larry, and Margaret.
Dean spends much of his day reading a wide variety of books, and he enjoys our library very much. Dean also watches nature programs, along with the History Channel, National Geographic, The Travel Channel, and The Weather Channel. He says, "There's some interesting stuff on those channels; you just have to put up with a lot of bologna." At Christmastime, he was looking forward to watching "Grandma Got Run Over By A Reindeer," another great example of his playful sense of humor.
When asked if there was anything else we should know about him, Dean said, "I'm not as vicious as I sound," in his rugged, gravelly voice. He is quite witty and has a great sense of humor. Dean has a beautiful Christmas Cactus blooming in his living room that he grew from a start off his mom's plant! It's an amazing treasure to still have after all these years. If you walk into Fieldstone Grandridge around 7:30 – 8 a.m., you'll find Dean sitting in front of the fireplace reading the newspaper and greeting folks as they come through the door. It is truly an honor to have Dean call Fieldstone Grandridge home!