One of the things we love the most about our senior living communities is the opportunity to get to know residents like Berne and Dody.
Berne and Dody Barnard (and their famous bears) have lived at Fieldstone Grandridge since June 2017. They met in Mesa, Arizona, in 1996 and got married in 1999. In fact, we just celebrated their 20th wedding anniversary with cake and a little piano concert in the lobby! Berne and Dody have brought some wonderful people into our world. Remarkably, between the two of them, there are 7 kids, 12 grandkids, and 28 great-grandkids…what a wonderful legacy!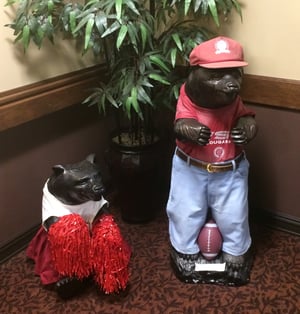 Prior to meeting each other, Berne was in the U.S. Army and went on to work as an electrician for the state of Washington. He was in the Lion's Club and was part of his church bowling league. Berne also enjoyed working with wood, building plant stands and coffee tables. Rumor has it he has a lovely singing voice and he used to sing with the Spokane Melody Singers!
Dody was a homemaker and cherry farmer. She was famous for her fabulous good ol' home cooking and was quite the bridge player back in the day. She loved waterskiing and camping and being a part of the Meridian Club. Dody was a Red Cross volunteer for years and was even honored as Volunteer of the Year!
Berne and Dody both enjoyed traveling—in fact, they loved their cruise around New Zealand, Tasmania, and over to Australia; as well as an Alaskan cruise and a Mexican Riviera Cruise with their kids. After all their memorable adventures around the world, they are grateful to be settled in with us here at Fieldstone Grandridge. They both love music, so if there is live music in the lobby, you will find Berne and Dody next to the fireplace, enjoying the music and holding hands. We're so glad you're here, Berne and Dody!
Our assisted living communities provide a maintenance-free lifestyle with amenities and activities at every turn, so residents can focus on enjoying the golden years. With communities planted across the Pacific Northwest, families have many locations to choose from—from Spokane to Issaquah and down to Portland, Oregon. Many communities enjoy a shared campus with assisted and independent living options and a memory care community right next door, so couples and family can stay close to each other while receiving the level of care they need. We bring together innovative technology, compassionate care, and beautiful environments with the shared belief that it takes every single one of us—our residents, their families and friends, and our team—to create joyful & vibrant communities.