Fieldstone memory care communities are designed to provide a safe and engaging environment for those with memory impairment. They focus on not only providing the day-to-day care many seniors may need, but also offering activities that stimulate the brain and encourage cognitive thinking. Some activities that Fieldstone memory care communities utilize for those with memory impairment are:
Music Therapy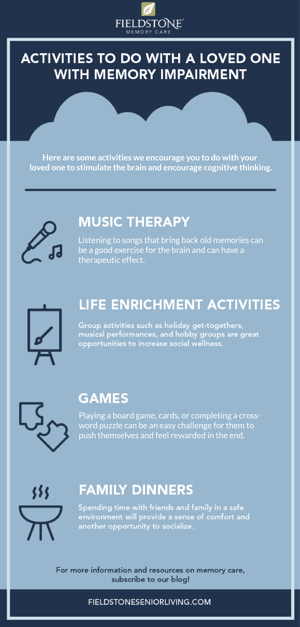 Julie Hooley, Life Enrichment Director at Fieldstone Memory Care in Kennewick, organized an initiative to engage residents through music. The program starts with the residents' family members providing a list of songs or artists their parent or loved one enjoyed when they were younger which Julie uploads onto an iPod. She schedules music therapy sessions with these individuals and lets the music do the rest. Similar to physical training, this program exercises the brain.
Life Enrichment Activities
Each month, our Fieldstone memory care residents are provided with a full calendar of activities designed to increase engagement and interaction. These group activities include games or puzzles, holiday get-togethers, and musical performances, as well as gatherings where we invite the residents' friends and family to join in and spend time with their loved ones. To further connect our residents with their family and friends, we have introduced LifeLoop - an interactive website that offers an inside look at what your loved one is doing each day!
The goal of our life enrichment activities is to, not only exercise the mind, but also to expand on all dimensions of wellness – physical, emotional, spiritual, environmental and social. Carla Koepnick, Life Enrichment Director at Fieldstone Memory Care Issaquah, says that they start every day with a morning walk, an activity focused on refining hand-eye coordination and an hour-long exercise class. Depending on the day and season, residents also participate in activities like bowling or gardening. In addition, Fieldstone Memory Care Issaquah uses a program called News Currents Sr. (https://www.knowledgeunlimited.com/newscurrentssr.html) which is an online program specifically designed for seniors. It uses a stimulating and interactive approach to presenting current events – keeping our residents engaged and up-to-date on a variety of topics.
In addition to our specialized activities, all of our memory care communities have a unique design which offers spacious neighborhood settings and common areas where residents can interact and explore in a secure environment. We consider every detail, from our Town Square layout to the integration of advanced technology that provides real-time information about a resident's daily activities, allowing our staff to provide better, more precise resident care. We want to create communities that feel warm and inviting - vibrant and joyful places where residents thrive and family and friends are excited to visit!
If you are interested in learning more about our Fieldstone Memory Care communities, please schedule a visit – we would love to show you around!